Ariana Grande Teases Miley Cyrus, Lana Del Rey Collab: Watch The Teaser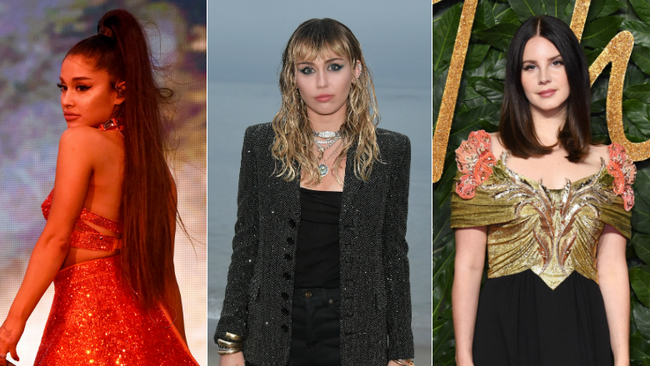 Ariana Grande's starting her 26th year on a fresh note alongside Miley Cyrus and Lana Del Rey.
On Wednesday (June 26), the pop titan confirmed the whispers of a project between her and the chart-toppers with a cryptic Instagram post, which tagged the upcoming Charlie's Angels reboot film. "Trailer tomorrow," she captioned a brief video of the film's logo with an instrumental playing atop the clip. Over on Cyrus' account, the pop star also shared the same video, writing, "WE ARE COMING! @charliesangels @arianagrande @lanadelrey." Word of a collab between the trio surfaced a few days ago when Cryus liked an Instagram post indicating that the three-piece were set for a team-up. Hours after the tease, Grande also liked a similar post, leading fans to believe that the collab was inevitable.
Grande and Cyrus have previously teamed up for live performances for Grande's One Love Manchester and Cryus' Backyard Sessions, but a studio record alongside the melancholy sounds of LDR can only make for an interesting listen. In early June, Grande revealed that she was working with producer Ilya Salmanzadeh on music for a project that was not related to her next studio album, leading some to speculate whether Grande might be curating an entire soundtrack for the upcoming action reboot. Either way, we're expecting a few more details to drop once the official trailer for the film, which stars Kristen Stewart, Naomi Scott, Ella Balinska, hits YouTube on Thursday.